Turkey, june 2017
Bowfin 1 by Tarptent, feedbacks from the Road.
CONTEXT
I had been for a whole year intensively using the Rainbow, a mono-wall ultralight shelter, as I was kicking around Europe with a push scooter and sleeping most of the nights out in the wild, when Erica, a product designer from Tarptent, came with a pretty exciting news: the team, who heard that I was going global, was kindly offering me their last « baby » out of the press, namely the Bowfin 1 (wishing only for honest feedbacks from the trail).
At the time the Rainbow was getting quite a symbol of the tour, for me because it was fulfilling nearly all my requirements, and for the online followers because its design and yellow arch would blend so well in the landscapes and make wonderful pictures of the simple life. I had a home under the rainbow on which I could rely at every corner of the continent: when one really lives and sleeps out there, it is precious.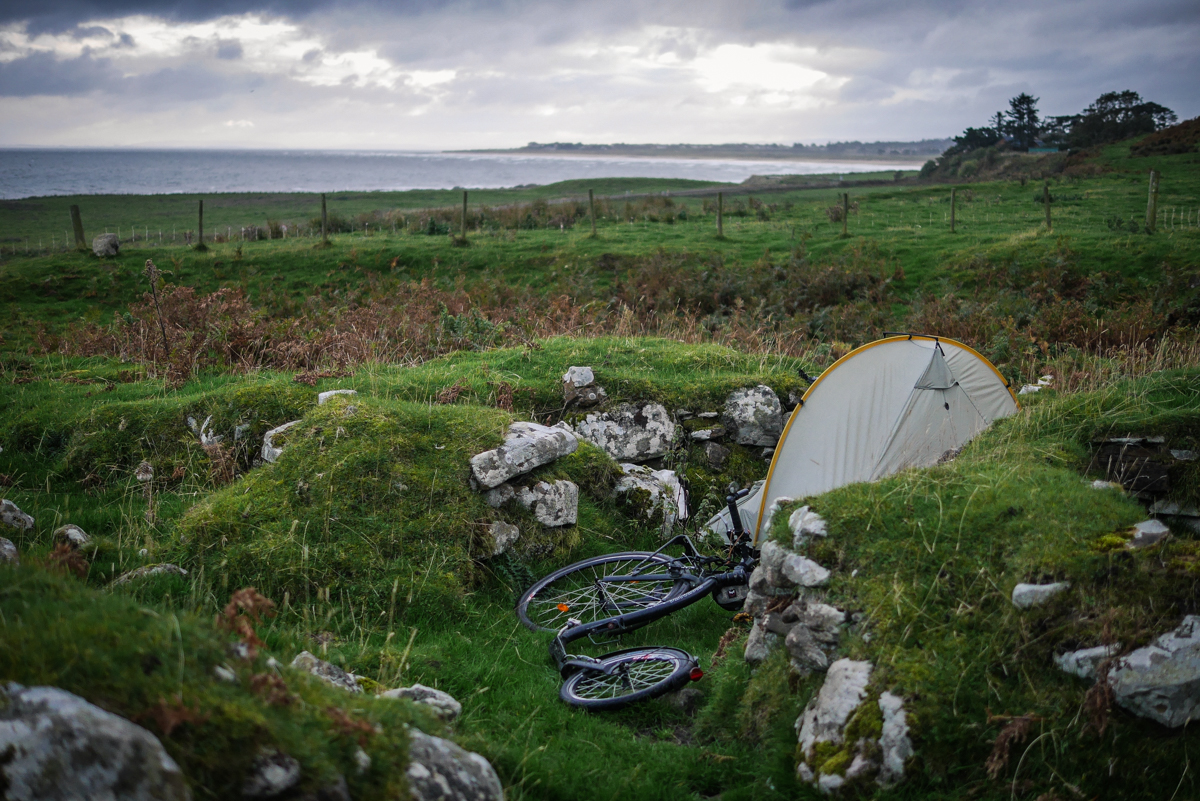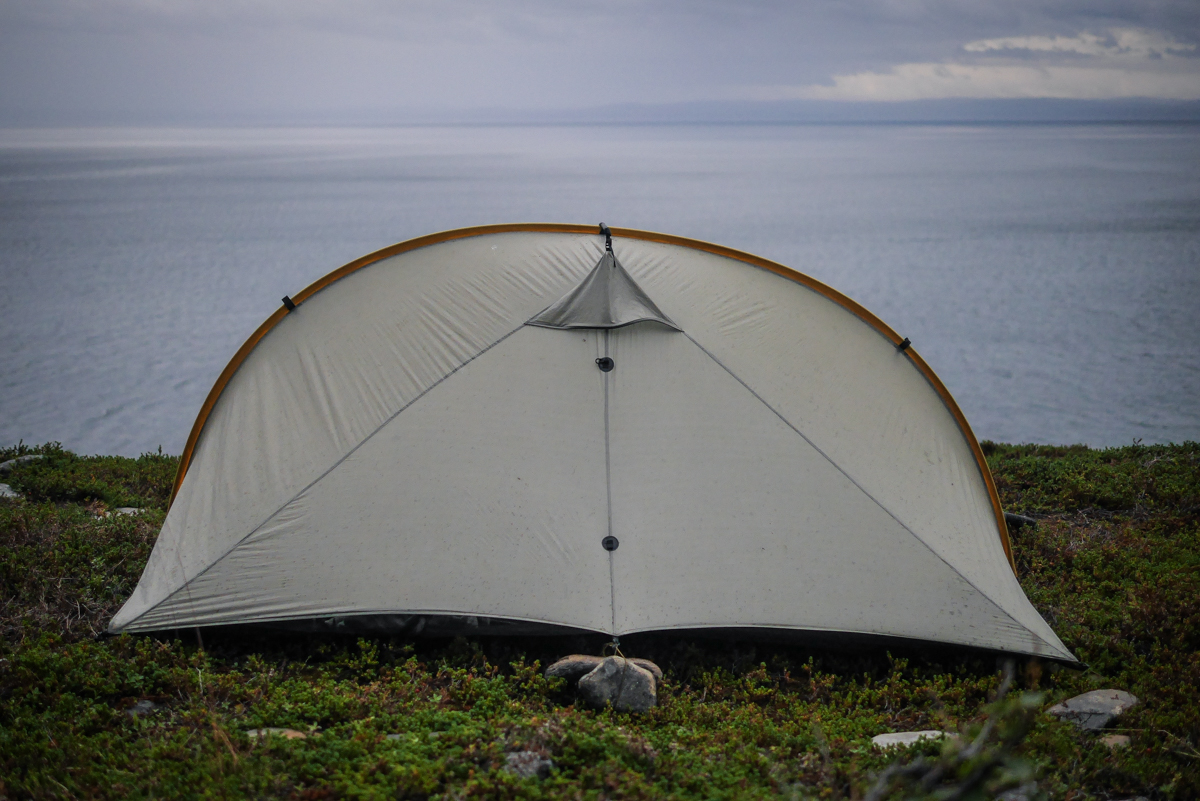 Discover other pictures of the Rainbow throughout my Europe tour in the Simple life photo gallery.
After stocking up the experience of a 12 months life outdoors, that stretched between climatic conditions of southern Spain to northern Norway (and Minor Asia in summer) so that I never had to face temperatures below -5° C, I was decided to make a halt in France in order to rethink and improve my gear and my setup, for I wanted to be able to endure 4 seasons around the world and more extreme temperatures if needed, more than ever in an ultralight spirit. On my list, the Rainbow was really not the first item to change, though there were one or two points that had my concern ; had I had the luxury of an open budget and had I discovered another model that would convince me on the paper, perhaps would I have switched spontaneously. I was attracted by even more minimalistic solutions (pyramidal tarps), but also ready to go on with the Rainbow as one cleverly designed mono-wall, light-weighted gorgeous tarp-tent.
So, why switch to the Bowfin 1 ? Erica put it simply :  it was double-wall, free-standing, more roomy, with improved fabrics, less stakes, in the style of the Rainbow, and yet, still a similar weight (around 1kg)! I'll get into the details, but for now let's say that after 4 months of daily (nightly) use I would find difficult to go back to the Rainbow.
THE RAINBOW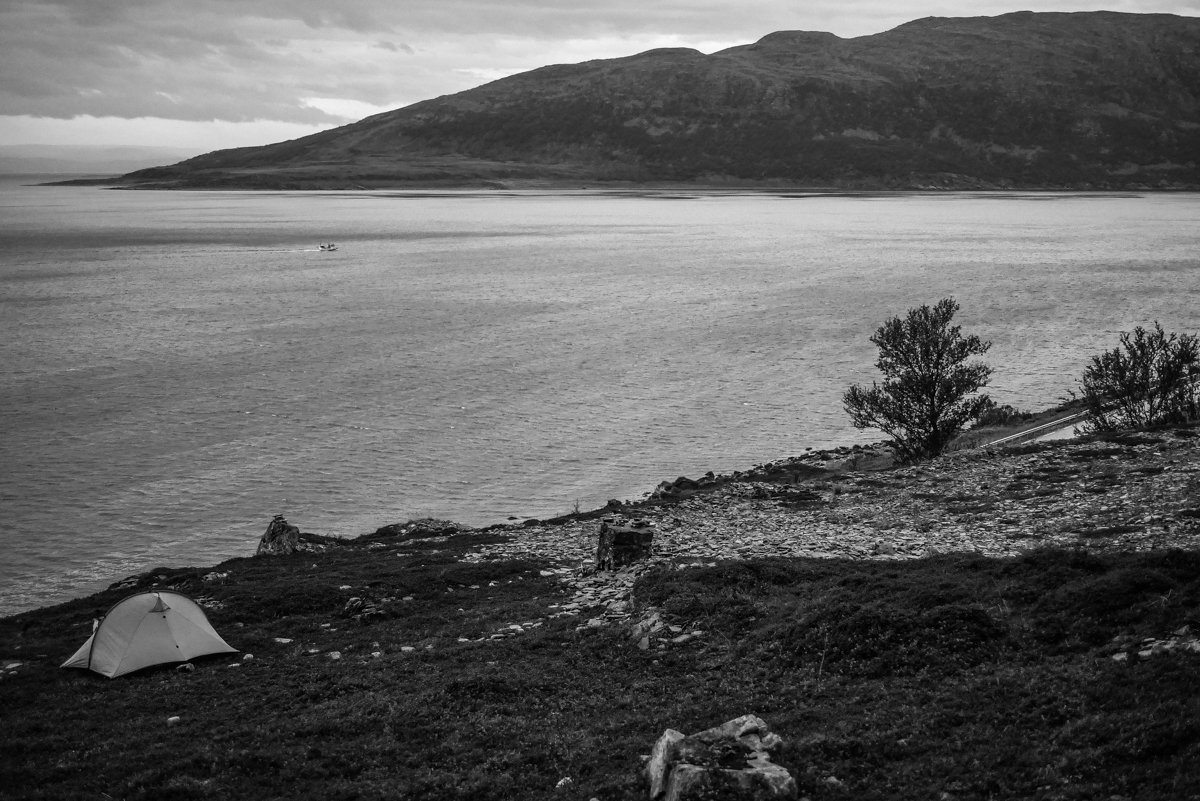 To understand how I came to appreciate the Bowfin1, let me state my pros and cons of the Rainbow (not the double-Rainbow).
=> What I loved about my Rainbow
Its lightness (1 kg, all included)
the superquick setup and folding
the fact that very little space on ground was required to pitch it, which sometimes allowed me to just fit in on an uneven or difficult terrain
its design and colours
its wind resistance (North winds blowing crazily in the Arctic, in Scotland, in Croatia would bend it to the floor, but it never broke).
its tarp spirit, being close to the elements, without compromission on the sheltering powers (from elements and insects)
its durability (of course 1 year of intensive use leaves signs of usage, but overall it proved quite resistant, and Tarptent was very reactive in giving advice, or providing parts to make it as new)
=> What I had reserves on
condensation dripping on the floor, then wet floor when unfolding it in the evening (when there had been a lot of condensation/rain)
not much space to put wet stuff appart in the evening when still raining outside
a lack of a second entrance
a lack of more « windows » on the outside
to profit from its free-standing ability, I had to carry two walking sticks around with me
Full specifications on Tarptent website : https://www.tarptent.com/rainbow.html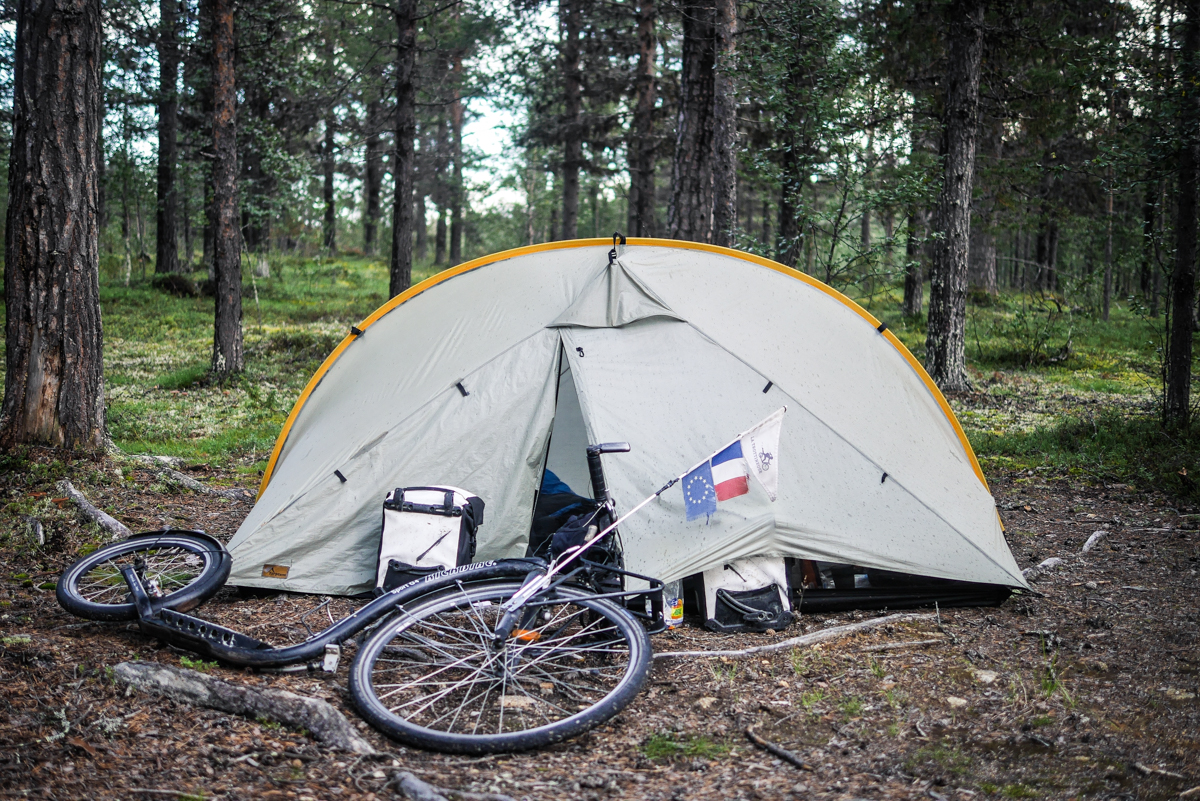 THE BOWFIN 1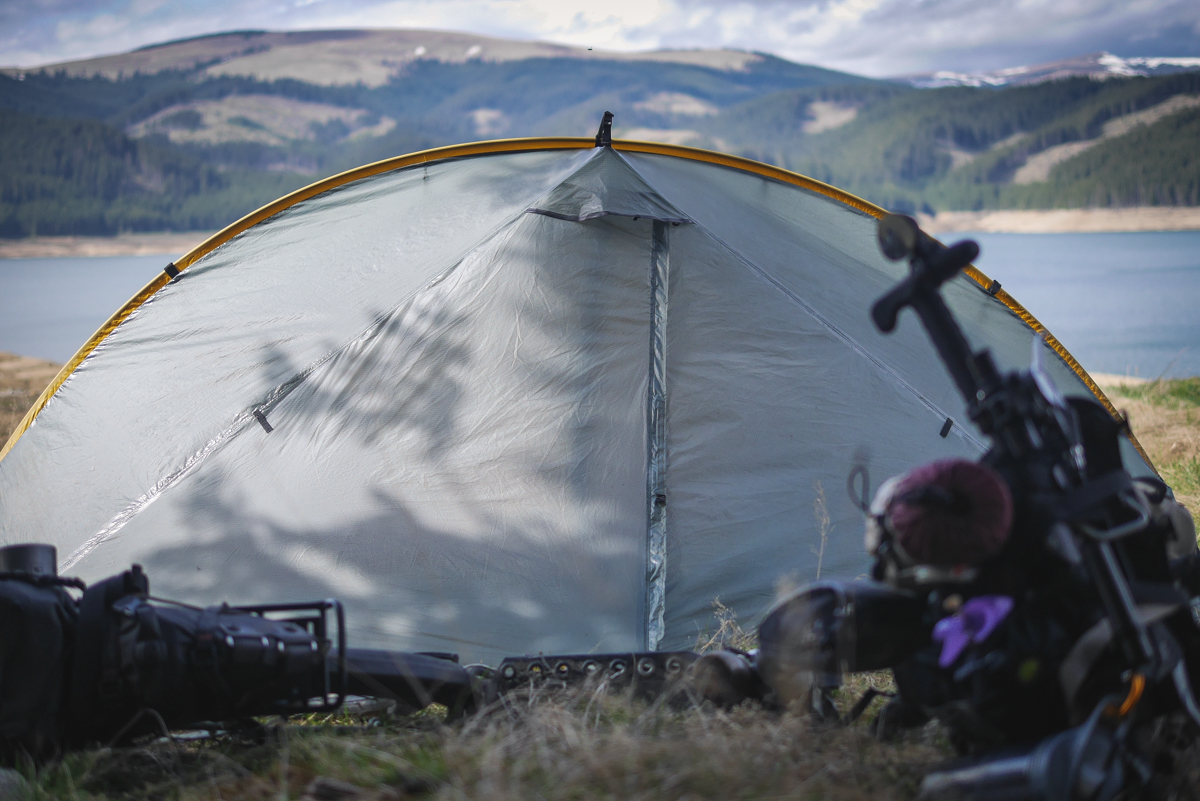 I have now been using the Bowfin intensively for 4 months, from a continental mild winter (mostly humid, windy and cold) to the beginning of summer in Anatolia. I'm rather small, 1m60, which has an impact on my appreciation of room, notably.
=> What I love about the Bowfin1
its incredible lightness for its features (1.06kg all included)
its ultra quick setup, with only two stakes (at the beginning, because I came from the Rainbow, I would add more stakes anyways, but progressively I used only 2, and it's enough), and the possibility of adding plenty more guylines and stakes if wanted.
the many options as to the floor and room setup : the bathtube can cover only a part of the ground, on one side, on both sides, and it is totally adjustable
the room for stuff (and for me) : thanks to that polyvalence and large vestibules, there is plenty of space now to store wet things or stuff, inside or out of the inner wall and polygonal floor.
double-wall, but closer to the outside : I have now 2 large side entries, much more view and air if needed, and two flaps at the ends that I leave totally open since spring.
its symmetry : a detail, but it can be pitched in any ways, you'll get the same disposition inside so no more time to think how to hold it to pitch it so that the head is here and the door is here, etc. Just time to consider where the sun sets and rises 🙂
the fact that one can choose to get the whole inner wall+floor off, and just keep the outer wall for a very « tarp only » experience and lightness.
its free-standing ability : I never had to use it yet, but the clever Pitchloc foldable ends allows the Bowfin to stand alone, without loosing of its structure rigidity, and allowing to sleep potentially anywhere on any surface
less humidity on the floor : the inner mesh wall retains condensation if it drops from the outer wall, and when I unfold it in the evening (after I folded it wet in the morning), there is also less drying to do
its looks very similar to the Rainbow that I loved
its quality : there again, I'm pretty sure it will last long,
=> What I'm sometimes thinking I would change
side entrances velcros when "doors" opened : I would try to place them a bit lower, so that the rolled door falls a bit less in the way, or put two of them, because every inch of openness is important to a view and circulation.
inner mesh pockets : I would try to reorient or make a different shape for them, because when one puts things in it, the weight make them bend towards the floor, and things flow out
side entrances main velcro when closed : I'm not sure it needs to be so long, when the zipper is closed the velcro seems a bit redondant, or it could be smaller to gain weight
this one is a luxury wish and surely a designer practical nightmare: I wonder how the roof could allow for a large opening, in order to watch the sky when laying 🙂
Full specifications on Tarptent website : https://www.tarptent.com/bowfin1.html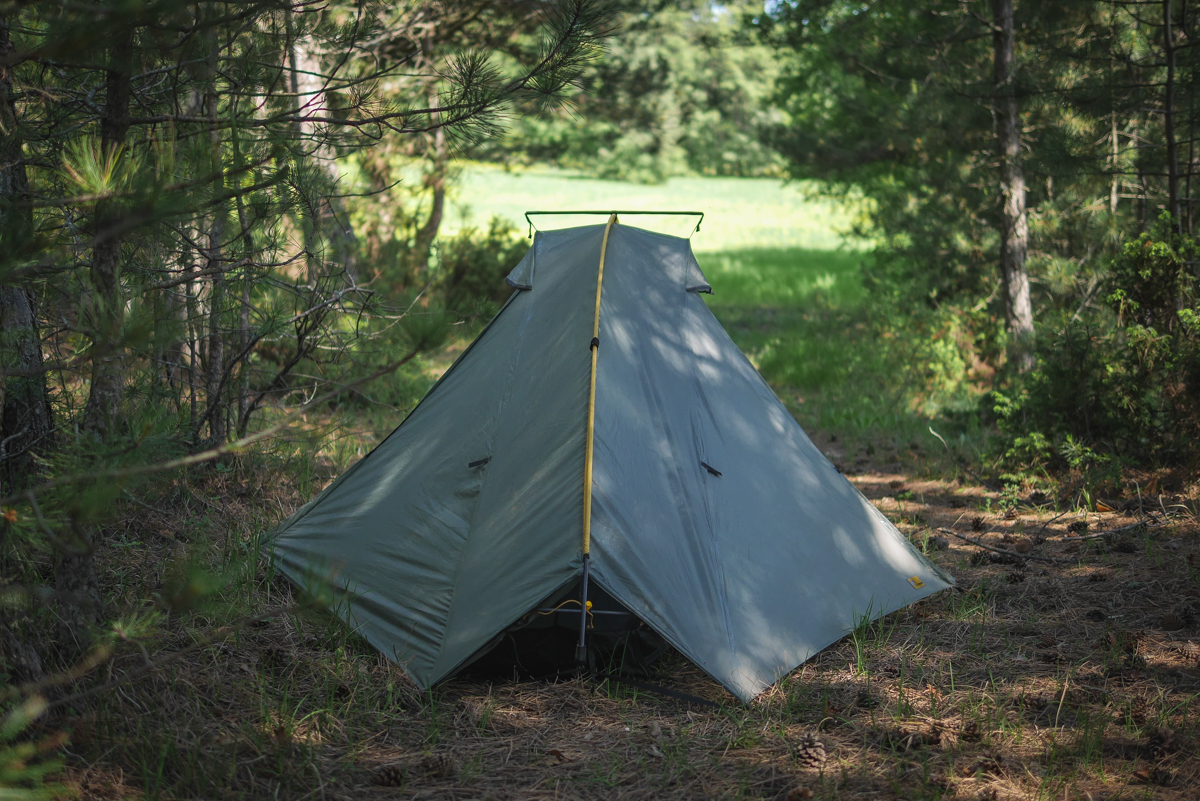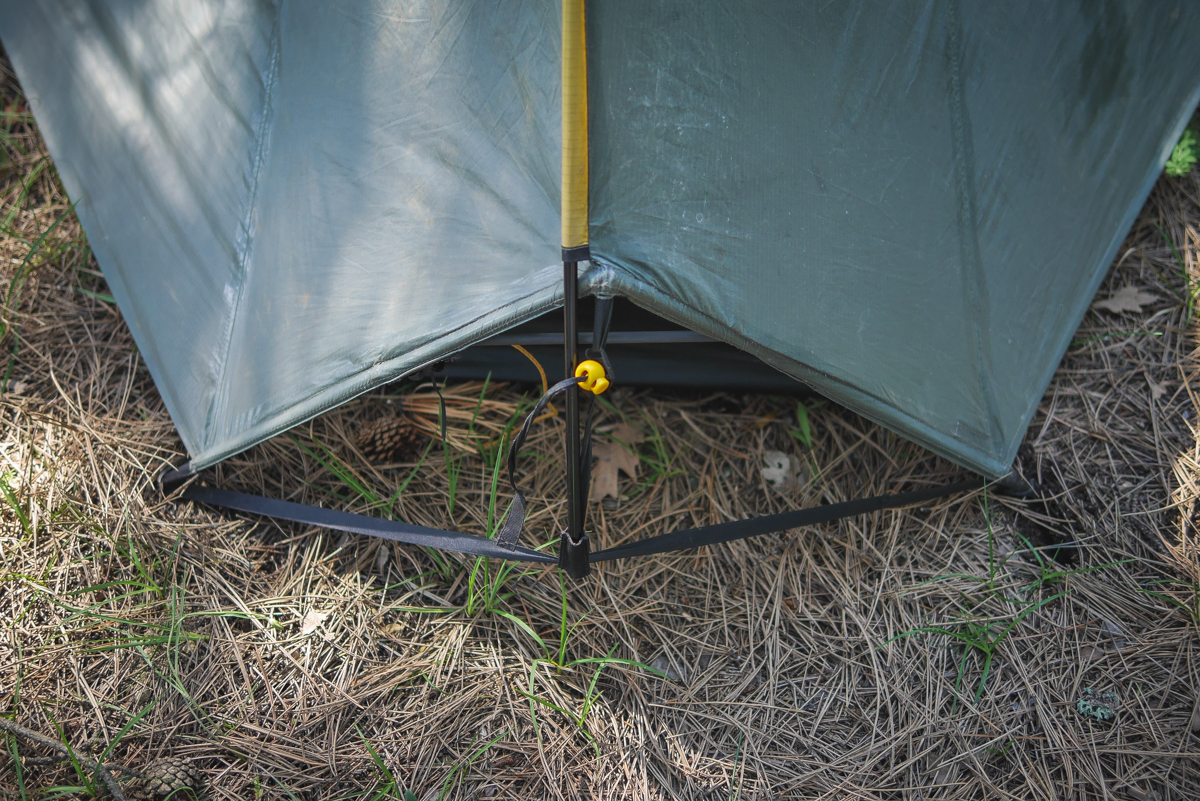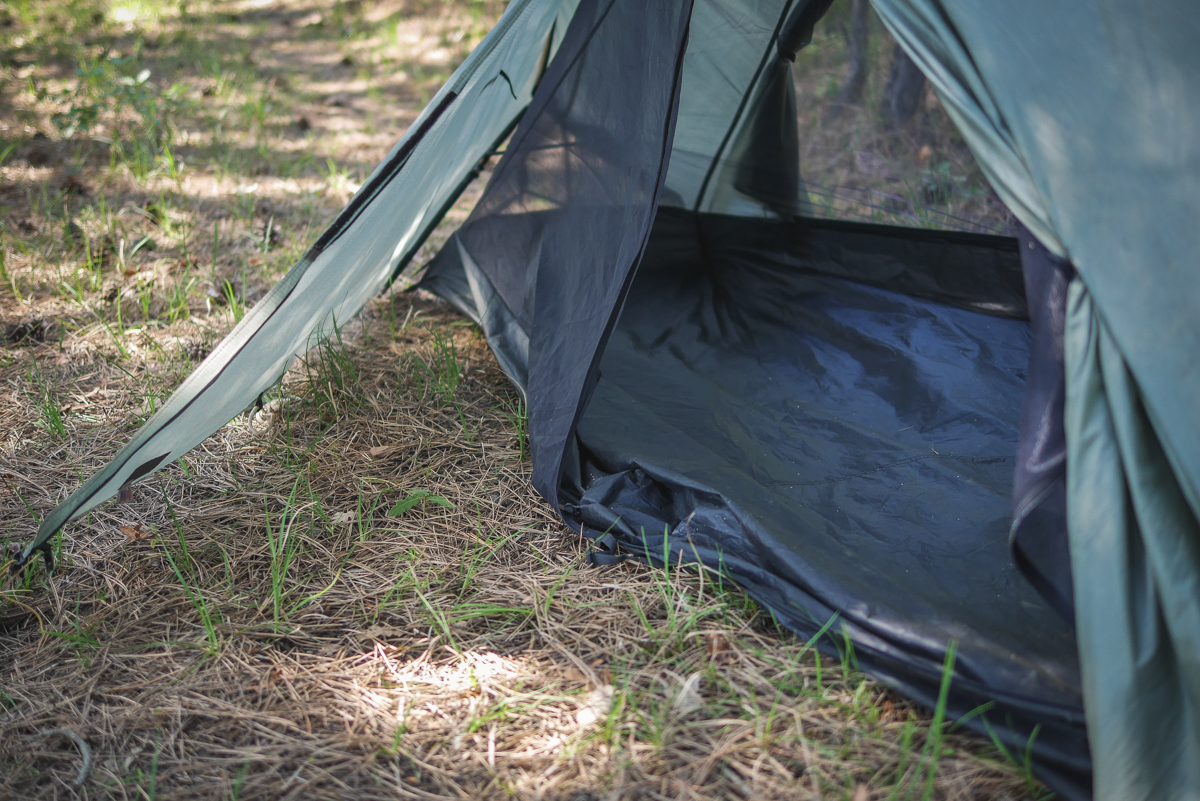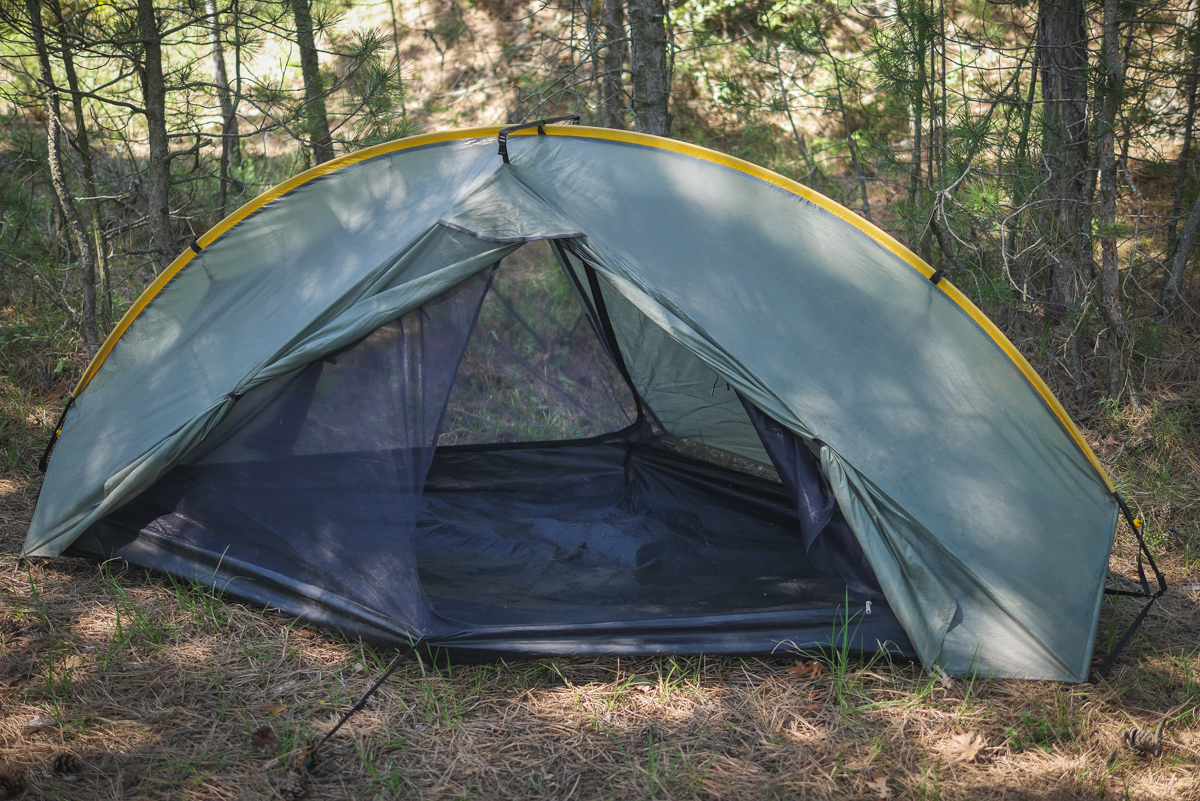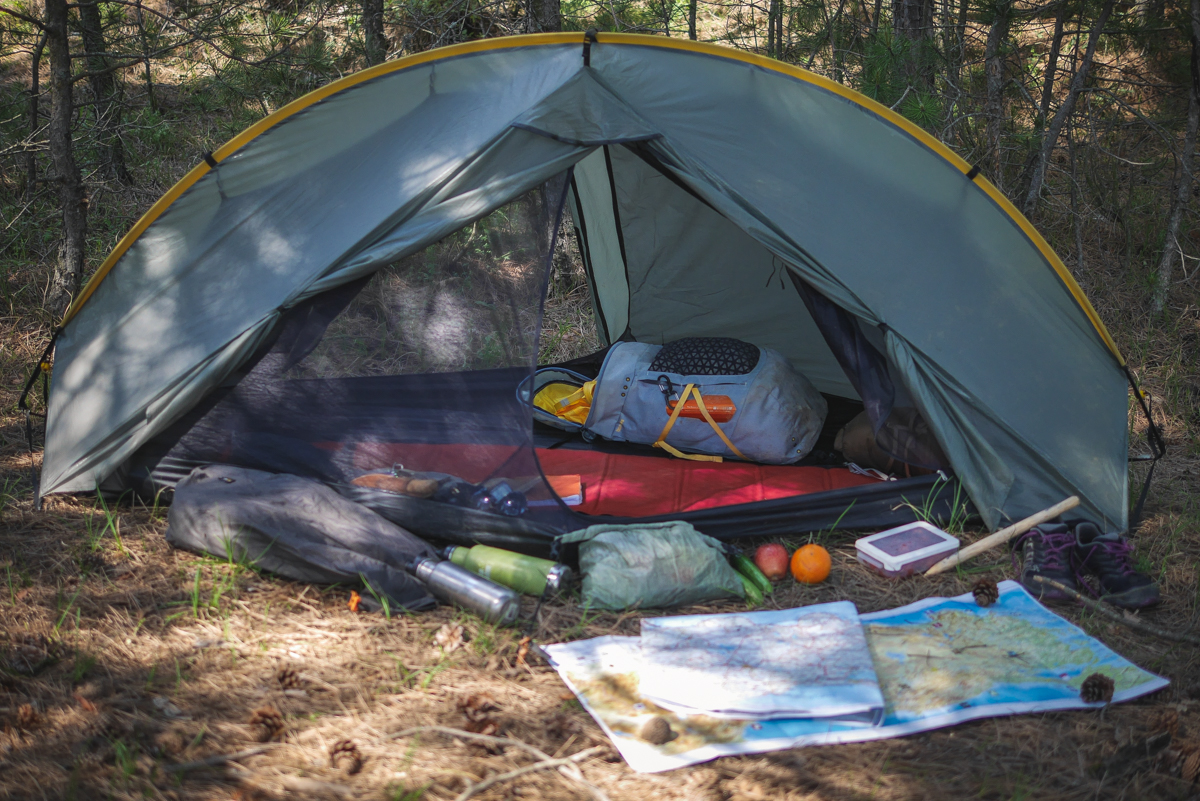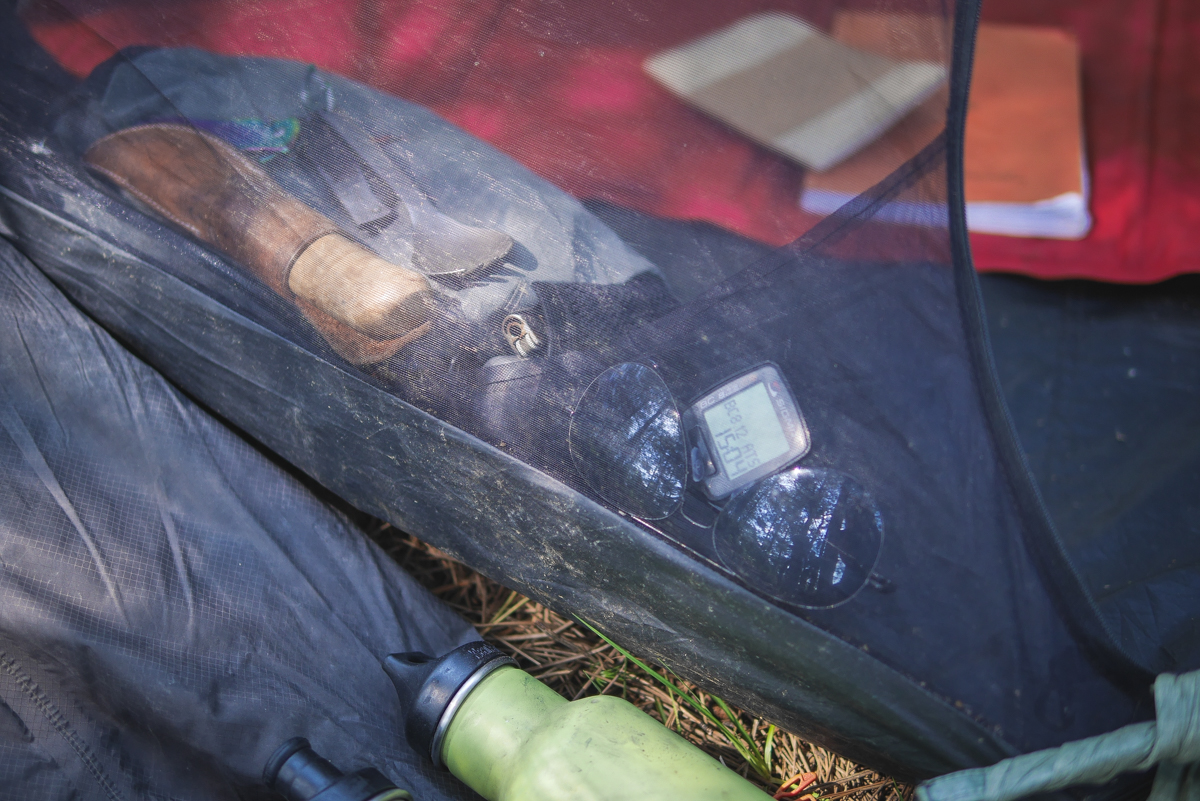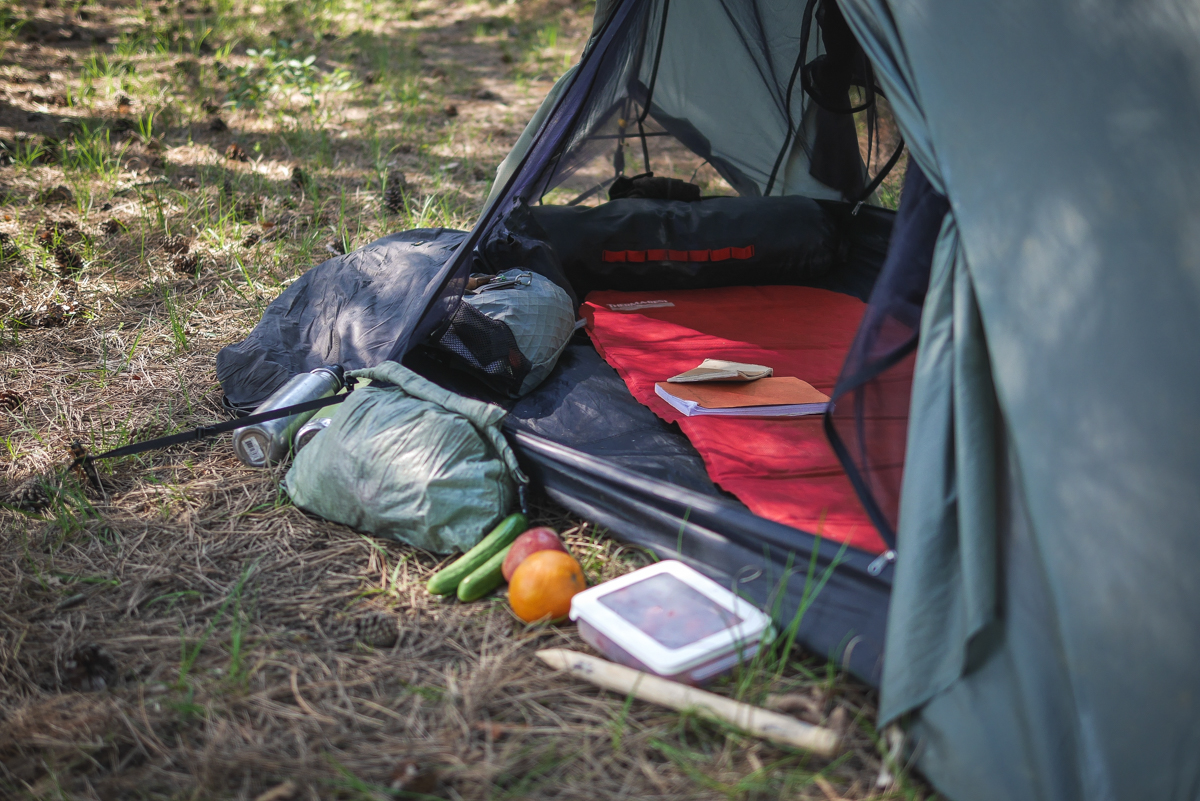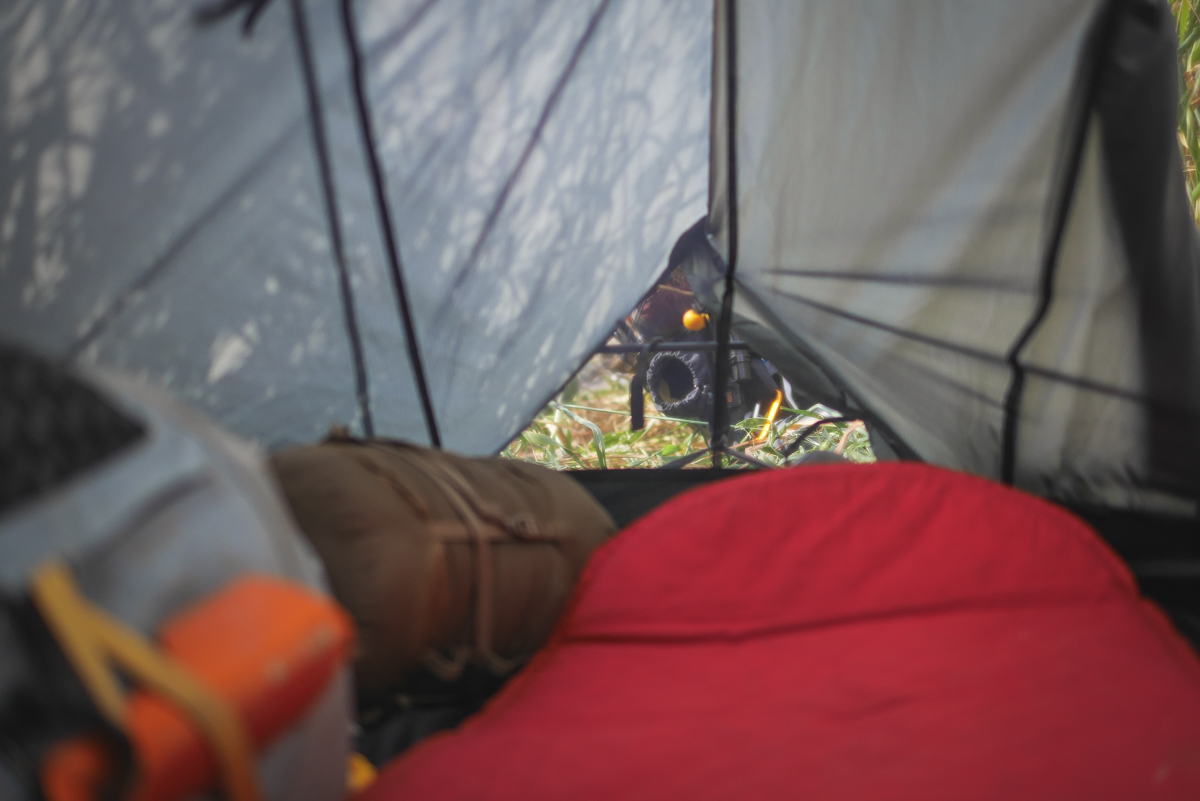 A PERSONNAL APPRECIATION
Of course, these are personal appreciations, based on the experience of an individual who travels and leads the journey in her fashion. It is probably impossible to generalize what happens at the core of a person's intensive use of gear : the birth of familiarity, a moment when tools become ours (without forgetting that tools mold us as well, by bending our ways of acting, making and thinking) and when by technical interaction with our surroundings, we create a unique familiar place, a home (domus, domestication). The nomadic life tied to familiar tools has thus throughout eons offered plenty of ways related to each type of society (be it a micro society) to be at home outdoors, without harming and destroying environments to the extent that it would lead eventually to one's own destruction ; « going wild » is a way of trying to remember that. Nevertheless, if there is a non-transmitable individual specificity in a person's relationship to her tools and gear amongst her unique culture and society, (and, nowadays many choices to make and ways to set up), there is also something larger that can speak to anyone, for the basic needs are pretty similar when it comes to the simple life : protection from the elements ; something that one can carry and travel with ; something that lasts in time ; something of which the carrier understands the working, so that he/she can handle it by himself. As Thoreau notes: « None of the brute creation requires more than Food and Shelter. The necessaries of life for man in this climate may, accurately enough, be distributed under the several heads of Food, Shelter, Clothing, and Fuel (energy). » Quite happily, this « universality » of needs helps designers of gear; in that way, they don't have to make up a specific model for each person, though the product, once used by the wanderer, becomes unique. But now is probably not the time to get asleep on an old meditation about form, function and technology… this kind of occupation is good at the end of a reckless day, when the sun gets below the horizon, the first stars shine, and you are happy to live, ready to fall asleep, feeling confident, in your transportable shelter.
CONCLUSION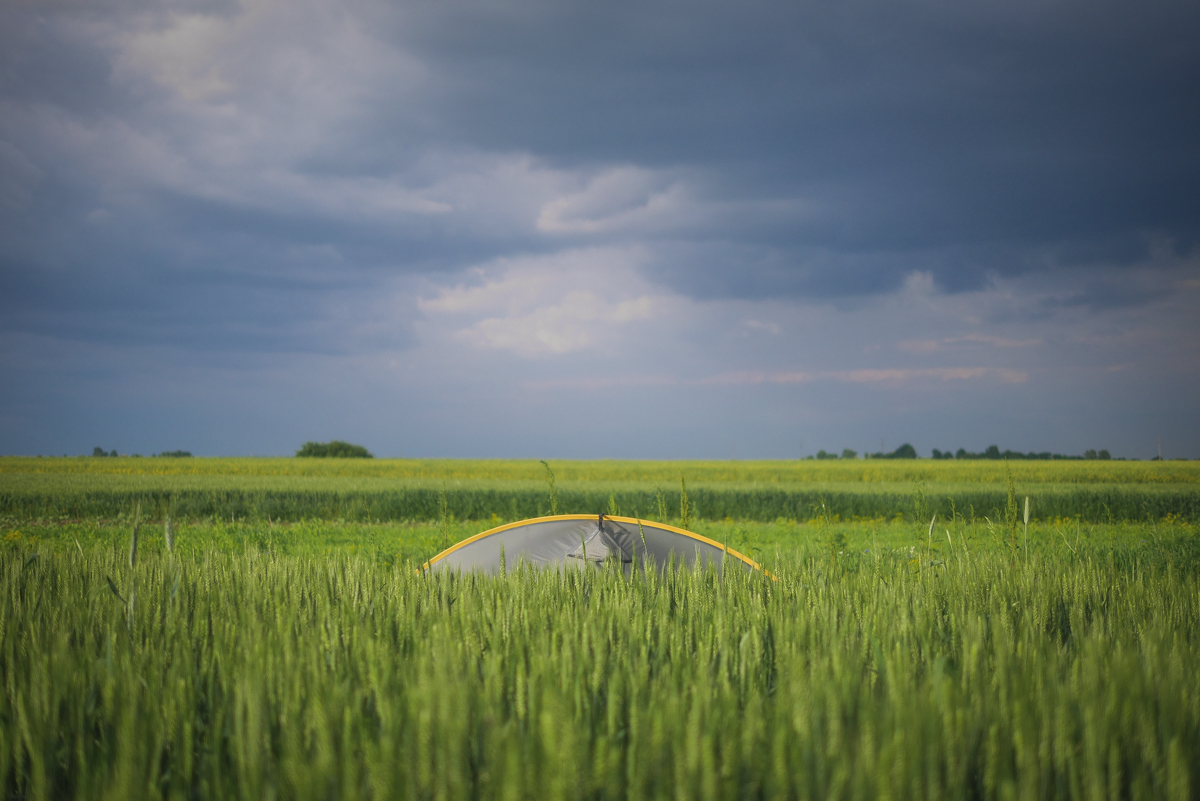 Erica told me the Bowfin is a fish from her native region (Michigan/Minnesota area), which can breathe both air and water. Until now, I have indeed been totally conquered by its superb versatility and protection ability, for such an incredibly light weight and simplicity of use. I have gained room in my home, plenty of options for the setup, responding to the mood and conditions, view and ventilation, waterproofness, without loosing anything on the minimalistic and quality spirit. I have found in the Bowfin1 a super-boosted big sister to my Rainbow, ready to travel throughout seasons.
Setting camp is a key and recurring moment for nomads when, at the end of a day of action, one chooses a place to take root, make a home somewhere for the night : protection, safety, a minimum of confort required in order to recover from the efforts, are vital requirements allowing to pursue further the wild journey, as long as the outdoors call. With its incredible versatility and lightness, the Bowfin1 has totally convinced me of its long-lasting adventurous spirit.
Thank you Erica and Henry 🙂
Discover more about Tarptent, their vision and practice : https://www.tarptent.com/vision.html